FIFA 18 Squad Battles, What does it involve?
FIFA 18 Squad Battles – A NEW FUT MODE
I don't think I've touched single player in FIFA Ultimate Team since FIFA 12. I'll play it occasionally if they release a good tournament pack reward however even then it's a chore. EA are looking to revitalise Single Player in the form of FIFA 18 Squad Battles.
The game mode is made to bridge the gap between offline single player gameplay and online seasons & FUTChampions.
Opponents squads are updated daily
Despite the picture above saying that the list of opponents will be updated in 2 days 4 hours, the developer on stream said that they'd update daily. Opponents listed on the "Opponent Select" tab are random teams that have been chosen from the community. Each squad will have its own unique custom tactics and play style.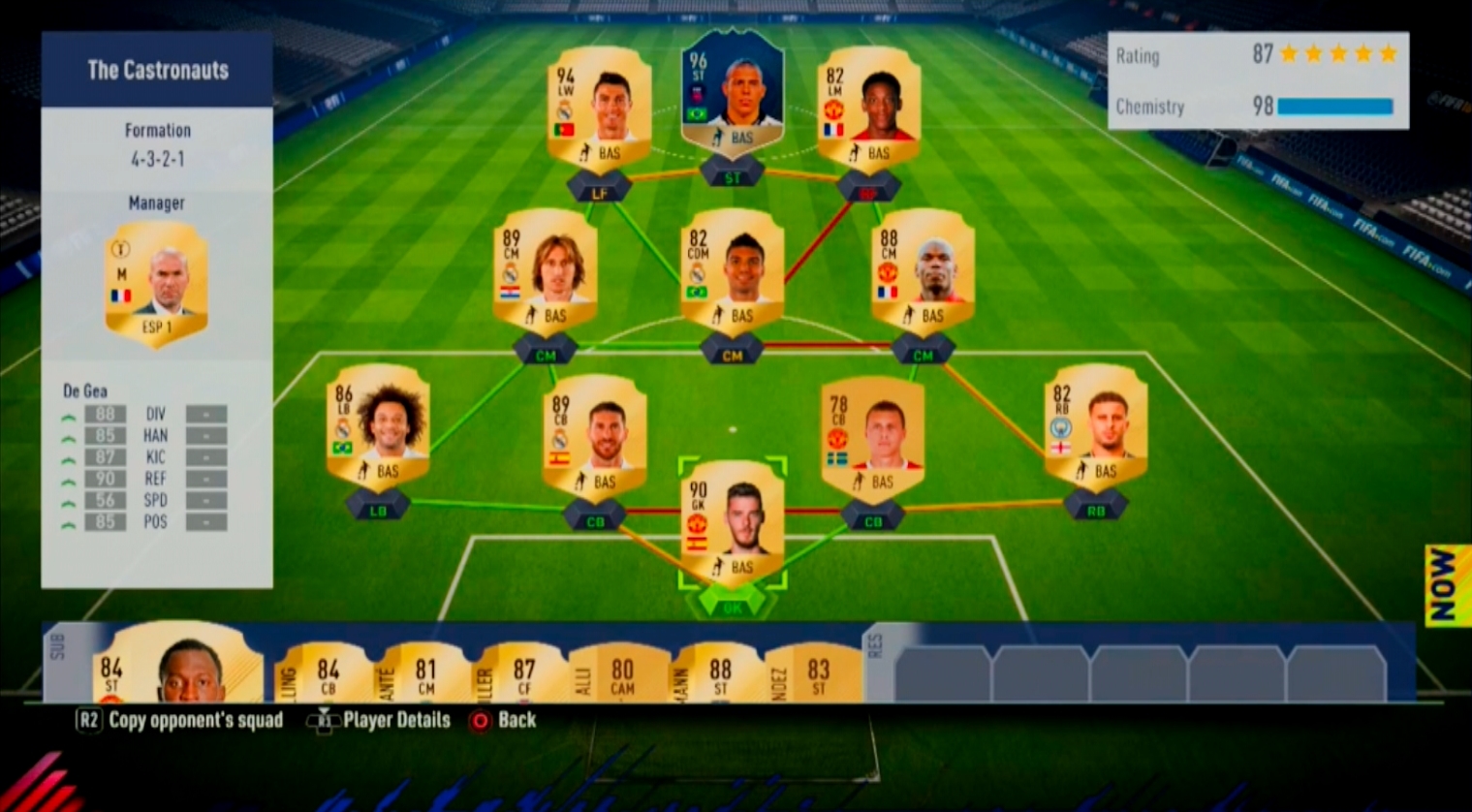 In the Featured Tab you'll find a feature celebrity, football player or FIFA personality. I like this addition, it's not ground breaking but will allow the community to interact with some big names. The picture above is Twitch streamer castro1021's team.
Team Styles are not, I repeat not NEW!
When you go into kick off and select a team. Switch to the custom tactics tab in team management and view the default tactic. The default tactic is setup to mimic how a team plays in real life. It seems like EA is trying to sell us a feature that's already in the game. Although the styles you'll face in FIFA 18 Squad Battles will be more representative of the current online meta.
Really think about the Difficulty you choose
Squad battles difficulty is dynamic. First of all, winning on a higher difficulty gets you more points. Secondly it's not just the difficulty you need to keep in mind. The formations and custom tactics completely change the dynamic of each match.
Because this team is a 4411 and has a "Low pressure" custom tactic they will sit back and be very hard to break down when attacking. It also has a "Tiki Taka" custom tactic. As a result it will be hard to win back possession as they'll be pinging quick one-two's among each other.
While it seems like this mode could be challenging, you'll have to play it on a difficulty that actually challenges your ability. If you're playing on a low difficulty level you'll obviously get less points as a result.
The Squad Battles ranking system is similar to FUTChampions
While the rank tiers are the same, the actual ranking system is somewhat different. Instead of completing 40 games in a short time period you'll have to compete for points. Each rank has a set level of points required, even the top 100.
It's yet to be said whether the top 100 is dynamic and only includes the top 100 point scorers for that time period or if it's a rank anyone can achieve with a set number of points. While the pictures make it look like the latter, I believe it will be the same top 100 system as FUTChampions. What do you think about Squad battles? Will you be playing them? Let us know in the comments below.